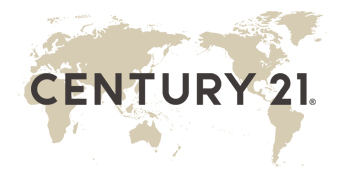 Century 21 is the most largest and successful franchise enterprise group. Century 21 group (USA) not only runs successful real estate business, but also hotel, travel agent, banking, car rental, shared holiday business. The most important business index is that every one fourth real estate deal in North America is related to associate company. Century 21 plays the most important role among these deals.
Century 21 is established in California in 1971. Century 21 sets up the first region in Canada, and stock listed in 1977. From 1983, Century 21 extended rapidly toward Asia, Europe, Central and South America; also we spread our brand names to Japan, Hong Kong, France, United Kingdom, Mexico, Great European countries, and Mainland China. Highly focusing on professional brand name has let Century 21 becoming well-known brand through out the world. Every year numbers of awards has let Century 21 approved to be a leading real estate franchise brand of the world, entrusting and recommending by customers all around the world. Evolving till today, the enterprise of Century 21 has set up more than 16,000 offices in 86 countries with over 169,000 agents. Century 21 is continually keep expanding its market share in the world and shape franchise brand value.
In order to largely increase brand effectiveness, implement the spirit of enterprise, Taiwan Region aggressively integrated global HQ's resource (including numbers of operating systems and on-job training). Devoting itself to connect Taiwan with international practice while taking hold of the important techniques and duplicating successful experiences of Century 21. Century 21 (Taiwan) is able to establish a professional circulation global network and the database which can keep in line with business around the world and synchronize latest leading international knowledge. Century 21 (Taiwan) believes that only beyond the traditional framework of business toward international, enterprise can go forward together with the world in tide of globalization and practice of corporate social responsibility.

"Taiwan in heart, Stepping on Asian Pacific, and International focusing" is Century 21's goals and business strategy. It is our responsibility to lead every franchise customers and members to continually innovating, enhancing competitive capabilities, and upgrading the quality of human resources with global trend. Ensuring the spirit of "quality service" can be implemented in every aspect of procedures. Century 21 has the confidence that we can facilitate our customers to communicate with each other by standardize quality service, international property circulation network, and agents around the world and enjoy the best property buying/selling experience and professional services.
We truly believe that "Even the road is very long; our goal would be reached eventually, if the direction is right!" It is not only core business and motivation for successfulness but also corporate social responsibility and the commitment to our customers. We thankfully for long term continually customer support and encouragement to Century 21. Century 21 encourage every members of Century 21 to mutually set up "Profession, Effectiveness and Globalization" services.
The board chairman of Century 21 (Taiwan), Mr. Fu-Zang Wang, introduced "Century 21" to Taiwan in 1997. He established the Asia Pacific Headquarter of Century 21 which franchised by Head Office of USA with well-performance Century 21 Canada. The Asia Pacific Region is responsible for integrating all marketing channels in Asia Pacific area , including Hong Kong, Macau, Indonesia, Singapore, Brunei, South Korea, Thailand, Vietnam and Japan. Century 21 not only the leading brand in the world, but also the number one brand in Asia Pacific.
Mr. Wang, the board chairman of Century 21 (Asia Pacific) implied that Asia Pacific region is a newly developing area in real estate market, but the growth rate of economic is much higher than European or North American countries. The real estate contributed approximately 20% of GNP for Asia Pacific countries with high population density. Chinese market has extremely unpredictable potentials. The real estate market condition in Taiwan is much better and has more development potential than counterparts in other countries. The Asia Pacific Region would play the role of inspection and integrating business development. Not only providing brand new support and services to customers, but continually building up the imagine of "Golden Team" in the Asia Pacific Region for all partner's of Century 21.In the future, Century 21 Taiwan will become the operation center of Asia Pacific Region. In short term, the Asia Pacific Region would reach the goal of 3,600 offices and 54,000 agents.
Tel:

+886-3-352-8055




Fax:

+886-3-352-0558




Email: